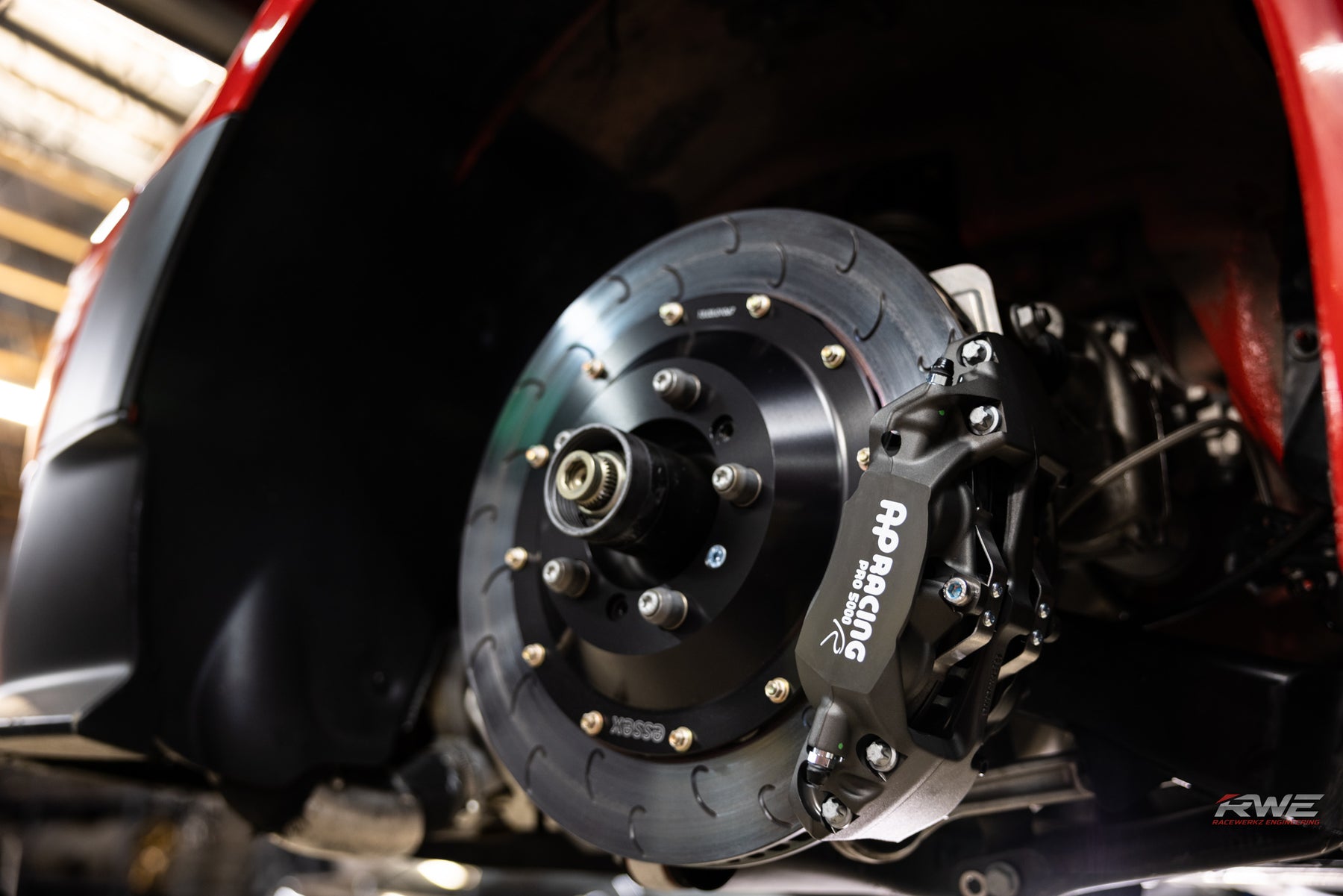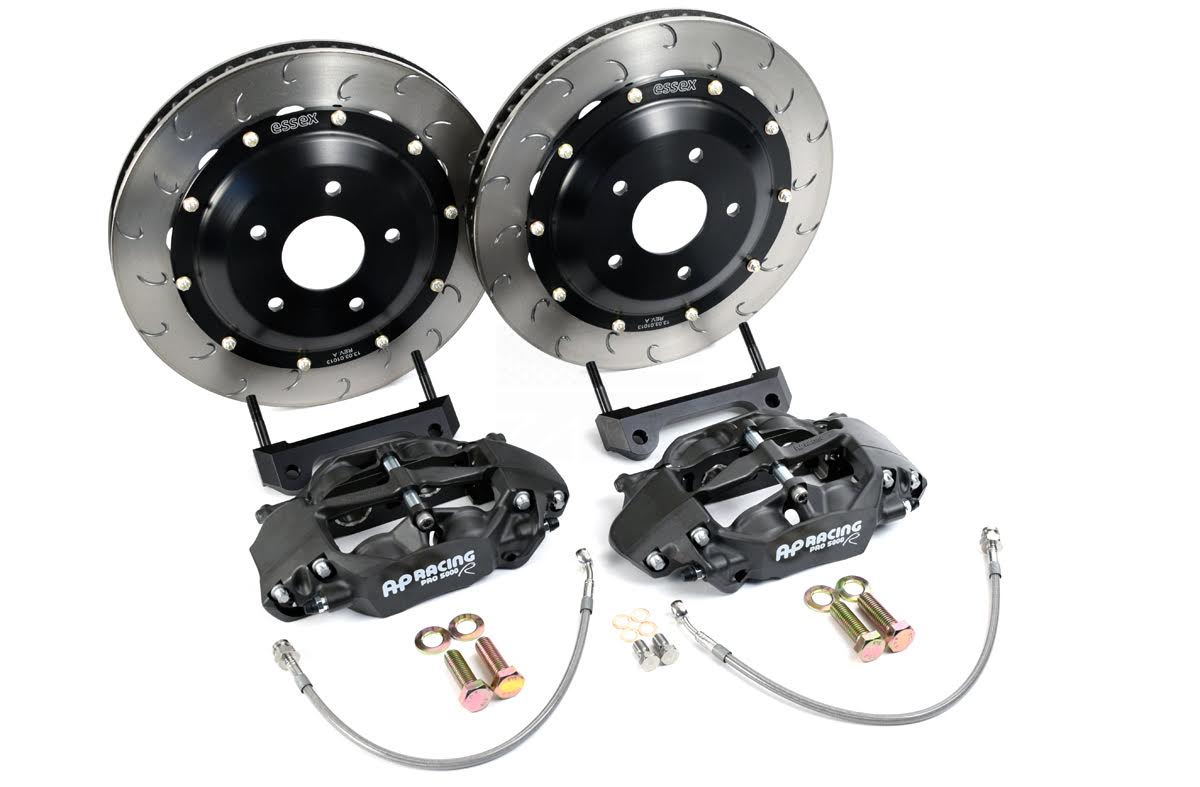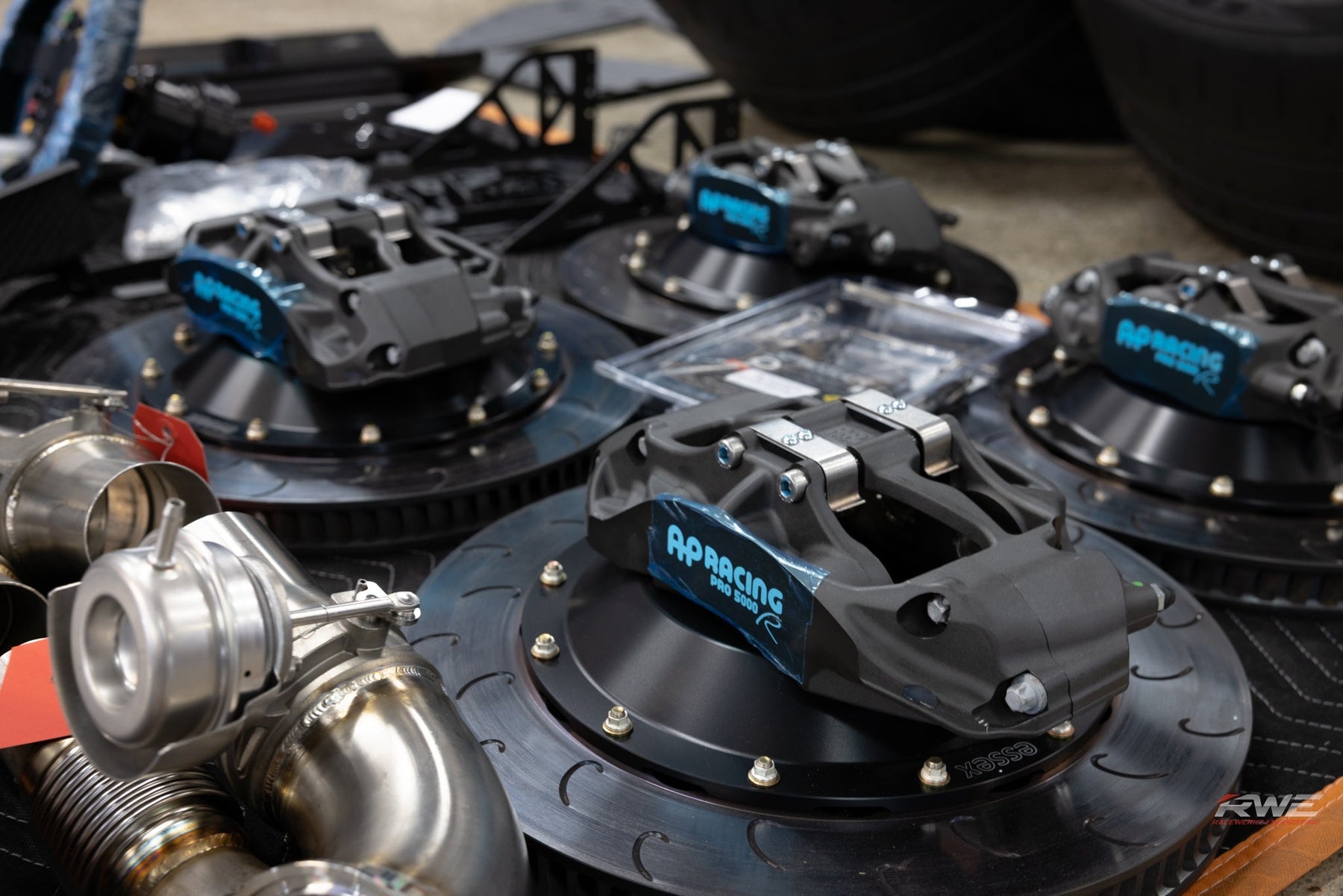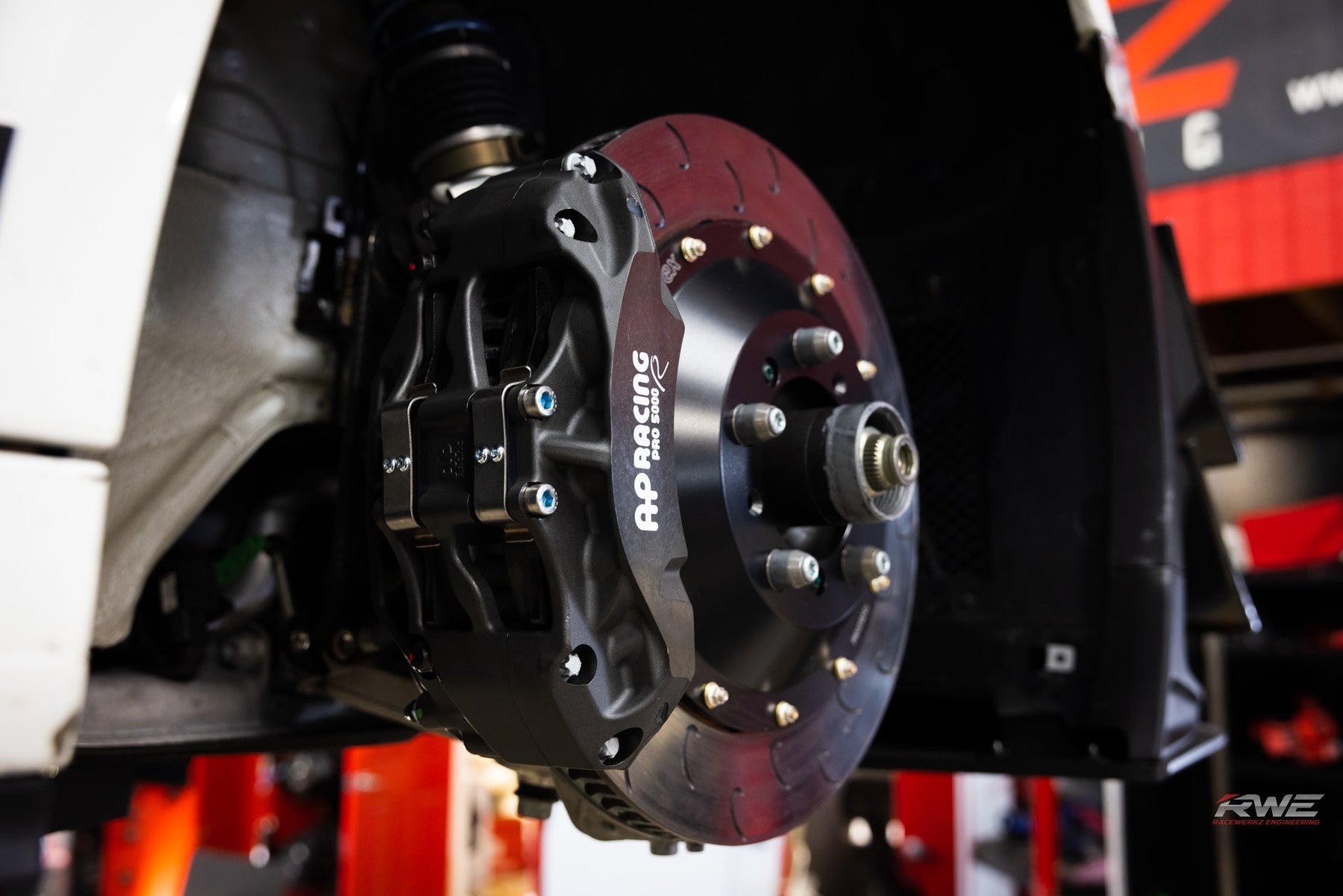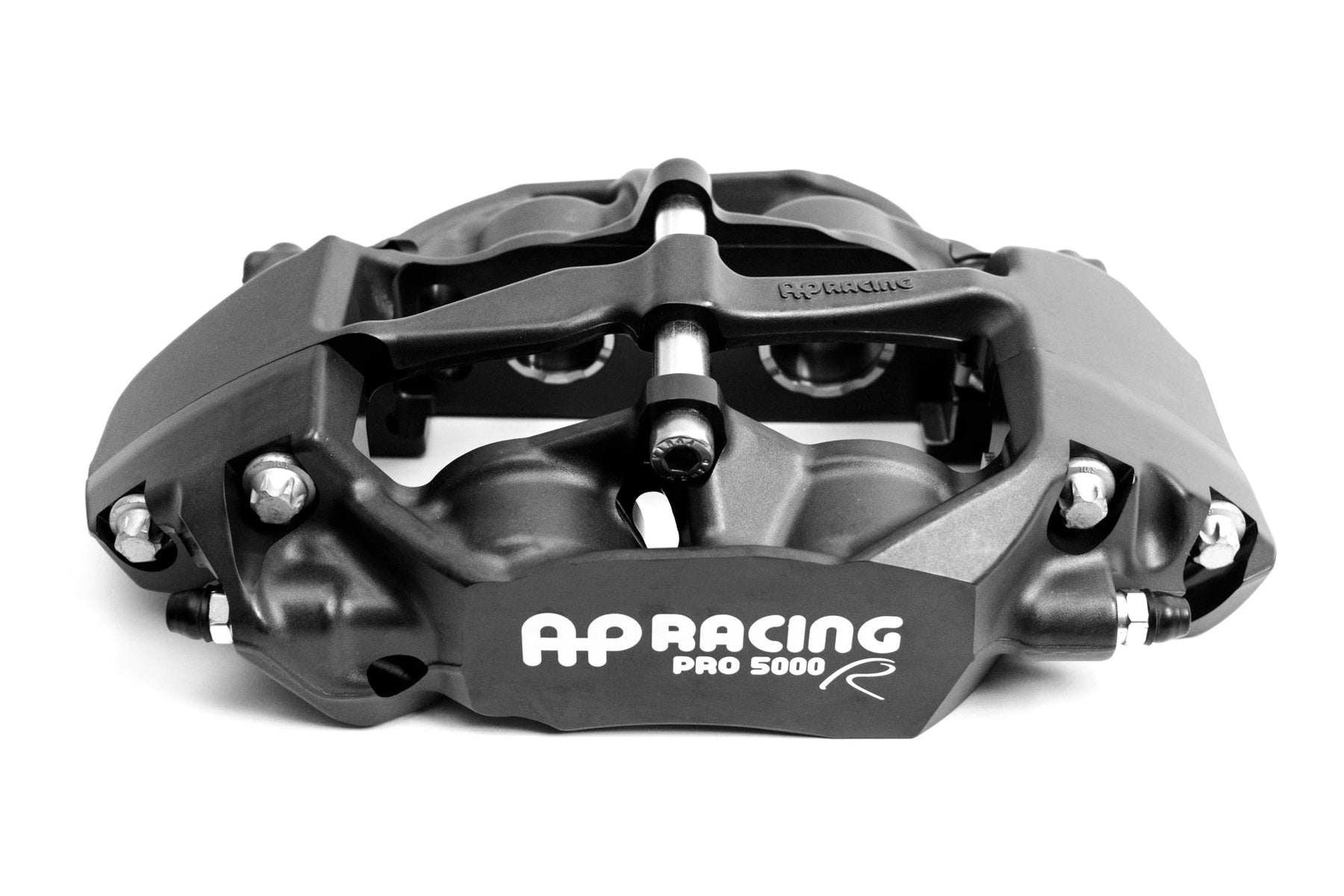 AP 991 GT3/3RS/2RS Rear Kit
Questions? Call Us - (657) 444-7223
Free Phone Consultation with our racing experts. Ready to help you upgrade your car!

Re-stocking soon

Choose your pads, they're FREE!:

Choose your pads, they're FREE!

Pickup available at RWE HQ

Usually ready in 24 hours

AP 991 GT3/3RS/2RS Rear Kit

No thanks!

RWE HQ

Pickup available, usually ready in 24 hours

1205 South Flower Street
Burbank CA 91502
United States

+18188027327
The AP Radi-CAL 991 GT3/3RS/2RS Rear Brake Kit!
The same kit we use on almost all of our Porsches, BMWs, Mclarens and some factory race cars! By far the best brake kit you can put on your GT3 or RS. 
Increase thermal capacity
Higher operating temperatures, we run these on track at 1300 degrees with no problems
Tested to over 1600 degrees with no fade!
Better pedal feel
Longer consumable life
Dramatically cheaper replacements than PCCB's. The whole kit is substantially less than just PCCB Rotors!
These kits typically don't include pads, but order for us and we include them, for FREE!
9449 Caliper with D50 Pad shape
The asymmetric design of the caliper gives us the best pedal feel we have ever had in any road or race car.
What this means is we achieve similar levels of caliper rigidity as the monobloc calipers from top ends of motorsport like NASCAR and F1 in a package that's much more affordable
Not Only are these calipers the best for the road cars, but Porsche Motorsport uses a very similar brake package for their new 992 GT3R!
Porsche's latest contender for the GT3 class, the 992 911 GT3 R, debuted recently at the 24 Hours of Spa event in Belgium leveraging an AP Racing Radi-CAL brake system. At the front of the new GT3 R you'll find 390 x 36mm 2-piece AP Racing Discs, 370 x 32mm discs at the rear. These discs are nearly identical in dimension to the discs in our AP Racing by Essex Radi-CAL Brake Kit for the 992 GT3 road car, which are 394x34mm front and 380x32mm rear. Both the factory racecar and our Competition Kits for the road car feature AP's patented Radi-CAL caliper design.
Long-term Running Costs and ROI
Let's face it, the GT3 and GT4 are not the most economical cars to run on the track, and OEM replacement parts are expensive for what they are and the capabilities they possess. No matter how good a brake pad or disc is, it's still a consumable item. They're no different than gasoline. You beat them up until they burn up or crack to pieces, then you throw them away. If replacement discs are too expensive, you're always driving in fear, waiting to shell out big bucks for a new set. While you obviously want the best product available, you can't afford to pay a small fortune for something you're just going to destroy, which is the root of the problem with PCCB discs in particular. When you do the math, the long-term value of our iron AP Racing system is tough to beat. Below is a retail price list for OEM brake components:
OEM Iron System
Front disc pair= $1839.62
Front caliper pair= $2460.60
Front OEM pads= $524.83
Total front=$4825.05
Rear disc pair=$1623.22
Rear caliper pair=$1973.10
Rear OEM pads=$551.27
Total rear=$4147.59
Total OEM front/rear car set iron brakes=$8,972.64

OEM PCCB System
Front disc pair= $12874.02
Front caliper pair= $2460.60
Front OEM pads= $508.89
Total front=$15843.51
Rear disc pair=$12982.72
Rear caliper pair=$1973.10
Rear OEM pads=$519.54
Total rear=$15475.36
Total OEM front/rear car set PCCB brakes=$31,318.87

At roughly $12,000 for all four corners, the AP complete brake kit is very close in price to the OEM iron components. But, the AP kit is by far the superior investment. One of the best features of this brake systems is that it holds its value extremely well due to their durability, serviceability, and AP Racing's stellar reputation as a top supplier. These brake kits typically change hands on the used market for about 70% of what they cost new. Meaning, if you spend roughly $12k on this four wheel kit, you'd typically expect to get $8,400 back if you sold them used. That means you can buy them, enjoy them, beat them up, sell them for thousands of dollars, and still have your fresh OEM brakes sitting in your garage, ready to drop on your car when you're ready to sell it. That is absolutely not the case with OEM brake equipment. If you destroy your ceramic caliper piston caps, ruin the red or yellow painted caliper finish, or crack your OEM discs, those components are worth very little, or even nothing in many cases.
Still have questions? Jeff Ritter from Essex Parts, one of the top motorsport brake engineers in the country is here to explain it all in this video.