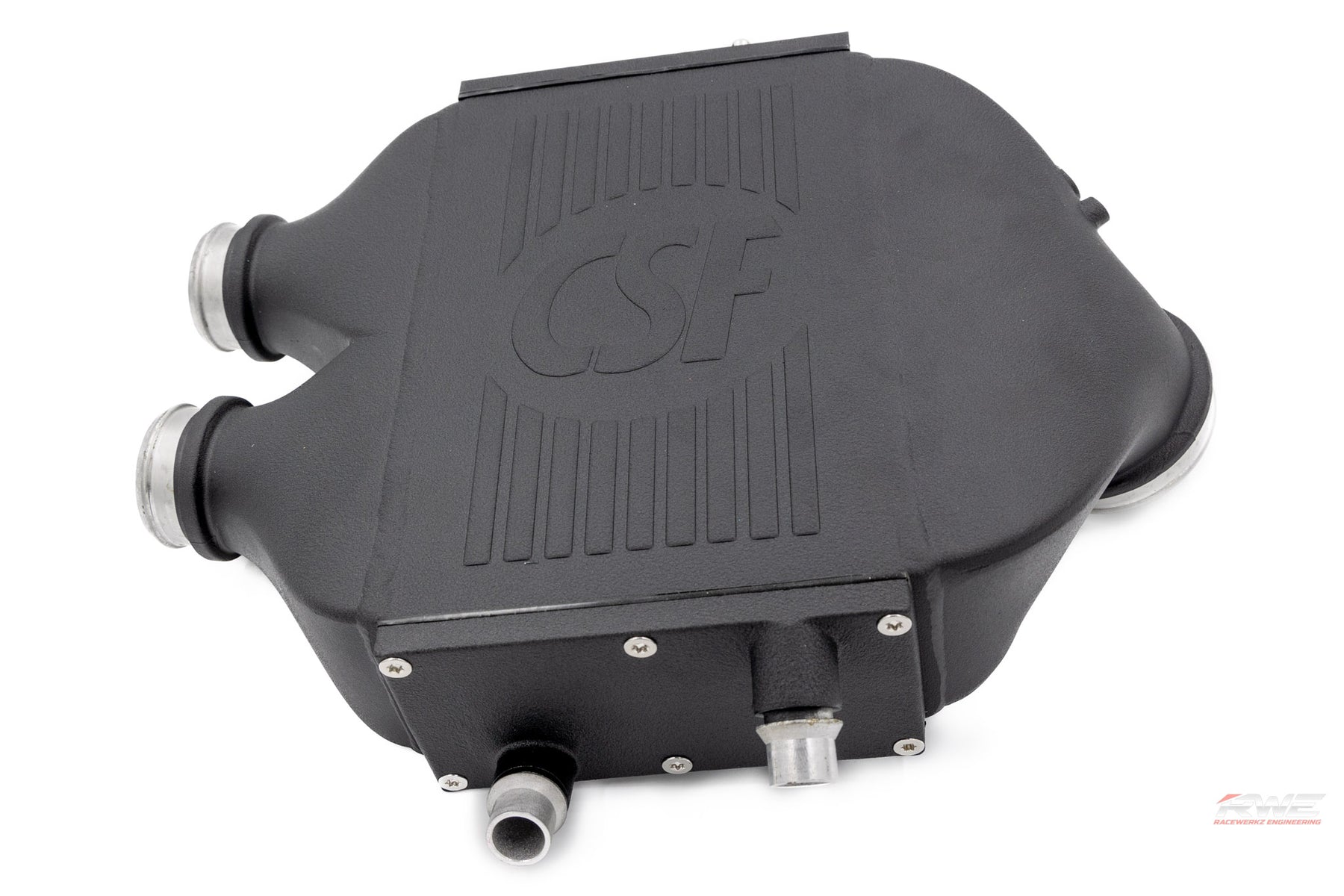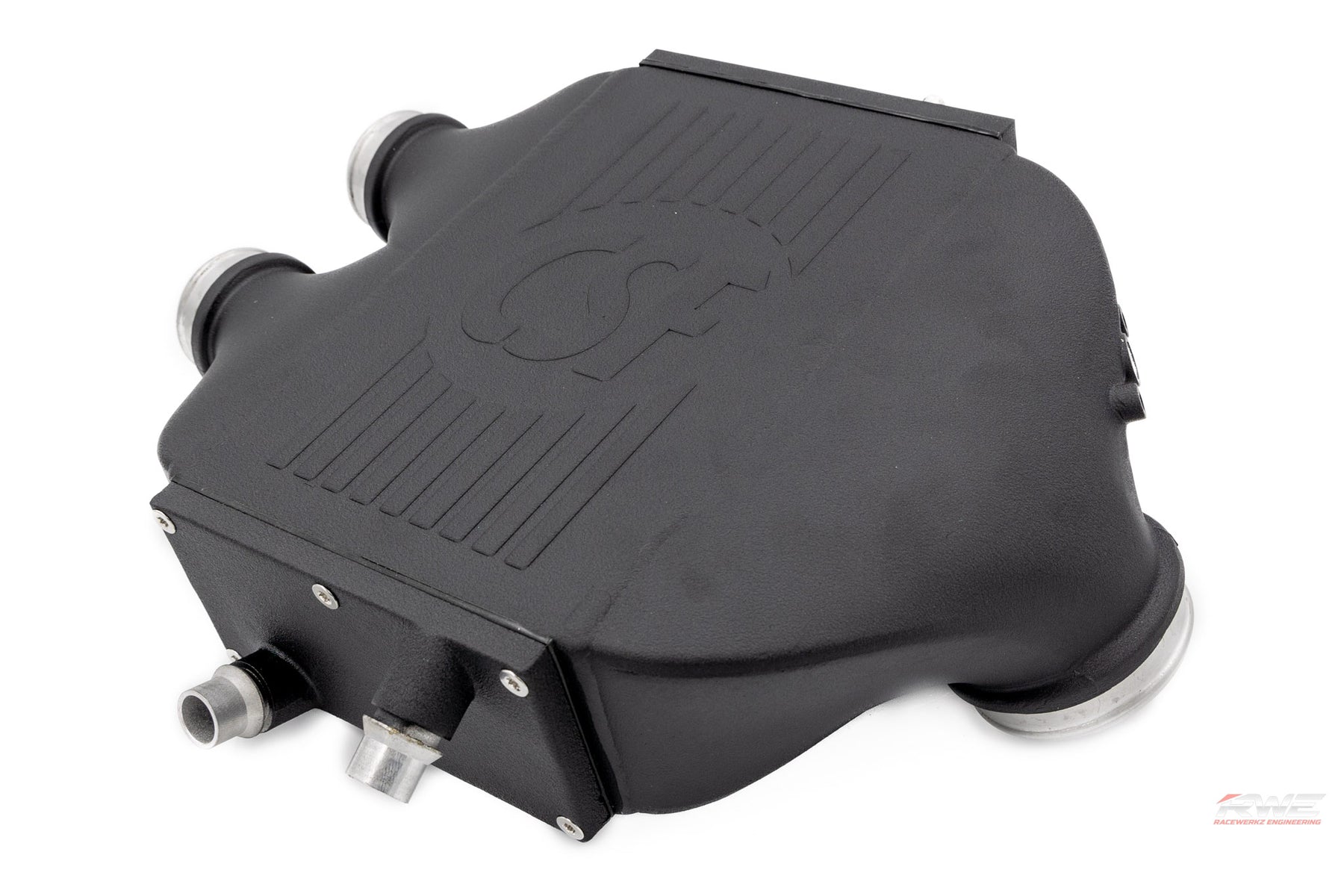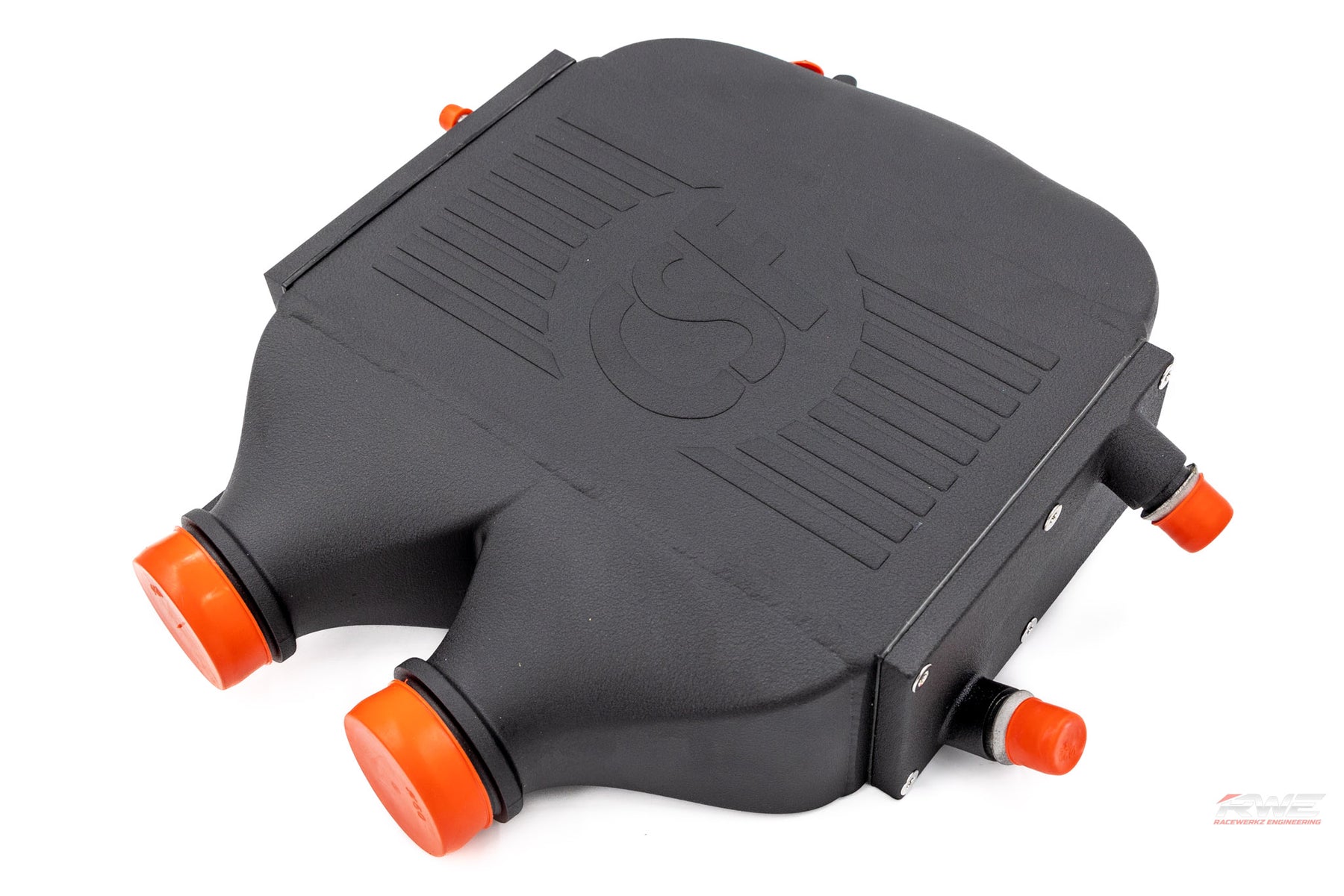 CSF F8X M3/M4 Top Mount Dual Pass Charge Air Cooler
Questions? Call Us - (657) 444-7223
Free Phone Consultation with our racing experts. Ready to help you upgrade your car!

In stock

Pickup available at RWE HQ

Usually ready in 24 hours

CSF F8X M3/M4 Top Mount Dual Pass Charge Air Cooler

RWE HQ

Pickup available, usually ready in 24 hours

1205 South Flower Street
Burbank CA 91502
United States

+18188027327
CSF Top Mount Charge Air Cooler for the BMW F80 M3, F82 M4 & F87 M2
The S55 suffers heavily from heat soak. We found out about this early on with our shop car which was a first US delivery model. We noticed a huge drop in power after just a few laps! Many tuners also witnessed this early on after doing multiple dyno pulls and seeing significant drops in power after each consecutive pass. Many F8X owners experienced the same loss of power on the track as the engine just could not cool off during laps. The solution is two fold: The Charge-Air-Cooler & Front Mount Heat Exchanger work together to keep the intake temps down and power up. The factory units simply cannot dissipate enough heat to keep up with prolonged performance driving. CSF's Charge-Air-Cooler boasts a core size that is 60% larger, greatly increasing the capacity for heat transfer from the hot charge air coming from the turbos. Paired with the Front Mount Heat Exchanger the system is able to maintain lower intake temps and keep your BMW F8X's power up.
World's 1st Cast Endtank Designed Top Mount Charge-Air-Cooler for the BMW S55 Engine in the BMW F80 M3, F82/F83 M4, and F87 M2 Competition
Multiple Air Dividers Cast Into Both Hot/Cold Side Endtanks for Optimized Air Flow Through the Custom Designed CSF Liquid-to-Air Intercooler Core (CFD Analysis and Testing Completed to Ensure Optimal Performance)
60% Increase in Core Size Compared to the OEM Cooler
Left/Right, Cross-Flow, Dual-Pass Core Configuration with 2-Stage Water Cooling for Maximum Efficiency and Intake Temperature Reduction (vs. OEM Single-Pass Vertical-Flow Design)
Designed with 3D Scanning/Rapid Prototype Technology to Ensure Precise Fitment and Maximum Surface Area Utilization
"Drop-in Fit" Design for an Easy & Quick Plug-and-Play Installation, Complete with OEM-Style "Quick-Connect" Water Connections and Sensor Ports
Finished with a Professional "Crinkle Black" Powder-Coated Finish
Lifetime Warranty
OEM Part Number Replacement: 17517846235

Also Fits F87 M2!